 Copyright 2010: Omega Zone | MMA Apparel. All Rights Reserved.

KENDALL W.  CONTINUED............................

OZ:  I'm not as familiar with girls in MMA, are there any bouts with boys and girls together?

KTK:  Yes, most of my competitions are against boys.  I train with boys every day so it does not phase me.  So far, every competition I've entered, I've  had to compete against a boy.

OZ:  Of all the types of Martial Arts you have been studying, which is your favorite?

KTK:  That's a really hard question for me as I LOVE Ju Jitsu AND Sport Karate.  I have mainly competed in Ju Jitsu tournaments, but love Sport Karate.  I was asked to be part of our elite group of kids, called the Black Belt Club.  We are a Demo team that demonstrate MMA/Sport Karate at schools, malls, Hockey Games, etc.  I am the Official Nun Chuck "Ninja" for our Black Belt Club at Alan Belcher MMA and absolutely LOVE it!  Out of these two Martial Arts, I prefer Ju Jitsu. 

OZ:  Which do you prefer, stand up or ground game and why?

KTK:  My ground game is amazing, but I prefer stand up as I find it easier to attack my opponent as I can deliver fast punches and my kicks are around 90% accurate.  This helps me to defeat my opponent easier. 

OZ:  Do you have a favorite professional MMA fighter?

KTK:  I have three favorite professional MMA fighters.  They are:  Alexis Davis, Nate Diaz and George St. Pierre.  I look up to Alexis Davis as she is one of few females in the Sport of MMA.  Of Course, I love Alan Belcher!  That's a given!

OZ:  How do you balance your life as a kid with a rigorous training schedule?  What other fun things do you like to do?

KTK:  My training is mainly in the afternoons/evenings.  I'm still a "normal" kid who hangs out with my friends.  I have become very close friends with the kids I train with since we spend so much time together training and at the gym.  My training schedule does not "usually" get in the way of time with friends, homework or family.  If I have homework or studying to do, I sometimes miss MMA training for a day.

Other fun things I like to do are:  Softball, Basketball, playing outside, computer, listening to music, watching TV, spending time with friends, etc.  I especially enjoy spending time with my baby sisters who are one & two!  They are very entertaining!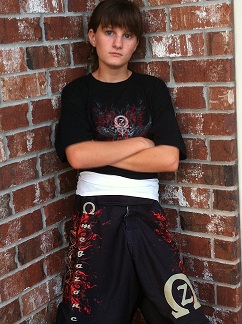 Kendall's Victories!

2012

NAGA Texas Grappling Championship

No Gi- 1st , Gi- 2nd

Texas Open Natl. MA- Aug 2012

Sparring, Traditional Forms, Weapons Forms- 1st Place

NAGA  Gi 1st Place,  No Gi 1st Place

Up in weight 30lbs 1st Place

2011

Florida State Championships 2nd

Gulfport Karate Championships 1st (in 2 divisions)

Louisiana State Championships 5th

First tournament ever 4th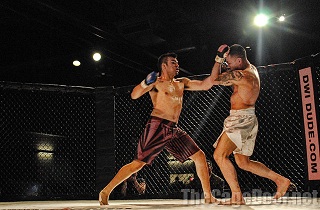 RODRIGO MARTINEZ AMMATEUR MMA

RODRIGO MARTINEZ

RODRIGO "THA AZTEC" MARTINEZ

Rodrigo's dominant fighting style has led him to an enviable

3-0 record in the Mixed Martial Arts Amateur Cage!

Welter Weight- Weighing in at 170 Lbs., Rodrigo's measured strike for strike blows have earned him respect in and out of the ring alike!

Rodrigo's expertise in Stand Up specialties fighting favors

Muay Thai style-  and exhibits his rigorous training and skills.  "Tha Aztec" has been a disciple of  Muay Thai for over 3 years.

His professional trainer has already sent 3 Ammy's to the UFC pros!

Although Rodrigo has been approached by various promoters to consider turning "pro", he'd prefer to hone his skill sets a bit longer.

Rodrigo is increasing the scope of his cage tactics by defining his ground game!  BJJ Blue belt on the way!

Look for "Tha Aztec" to increase his record to 4-0 following his next bout!

Omegazone is a proud sponsor of Rodrigo Martinez.

Look for Rodrigo to sport Omegazone Fight Shorts, Tee and other gear in 2012!